A BRIEF HISTORY OF THE
BRIDGEVILLE VOLUNTEER FIRE COMPANY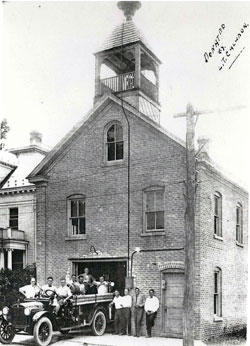 On December 14th, 1909, a meeting was held in the Opera House by the citizens of Bridgeville to organize a fire company and resulted in the appointing of Ira Lewis, William E. Dimes, and Howard E. Hardesty to secure the necessary membership.
Then on December 17th, 1909, a second meeting was held at the Opera House and officers were elected. The first President was Cornelius P. Swain; Vice President, George E. Miller; Secretary, Harry L. Cannon; Treasurer, Ira Lewis. The first Fire Chief was Harry W. Viven; Assistant Fire Chief, John Coverdale; Foreman #1, James W. Layton and Foreman #2 was William E. Dimes.
Thereafter, the chair designated Harry L. Cannon, Harry C. Layton, and William P. Short in becoming an organized By-Law Committee to facilitate a statute of documentations for the Company to follow. And so it was, on December 21st, 1909, the first set of Company By-Laws was adopted. Also integrated, was the pronouncement in holding the annual fire company meeting in January and its regular meetings to be held on the first Monday evening of each month.
The first pieces of equipment purchased were lanterns and ladders in February of 1910. In order to supplement the needs in additional equipment, the Company organized fundraising events. One of the first events was a bazaar that was held on March 7th, 1910 and profiting at $610.50.
On April 15, 1910, Fire Chief Harry W. Viven was called for the first fire drill.
Later that fall (October 15, 1910), a committee was appointed to purchase a lot and get estimates on a suitable building to assemble their first fire station.
November 17th, 1910, the Bridgeville Volunteer Fire Company Inc. was incorporated. On December 29th, 1910, the building committee submitted plans and proceeded to build their very first fire station at the cost of $1,100. Situated on Williams Street and Market Street, the station now known as the "Old Firehouse," operates as a civic museum administrated by the Bridgeville Historical Society.
On April 7th, 1917 A Ladder truck and firemen's suits were purchased. Also during the month of April the Company had its first accident. When answering to an alarm of fire, Lee Morris was injured in a fall while crossing the Pennsylvania Railroad tracks. It was necessary to carry him to the Cambridge Hospital.
Years later on January 4, 1923, a meeting was held and committee comprised of Harry L. Cannon, Harry C. Layton, and Charles H. Brown were appointed by President Luther T. Calhoon, to select a suitable fire engine and report to our town commissioners, who in turn called a special election and bonded the town for the necessary amount to purchase the selected engine. Also at this meeting the mortgage of $400.00 remaining on the property was burned by James W. Layton.