A BRIEF HISTORY OF THE
BRIDGEVILLE VOLUNTEER FIRE COMPANY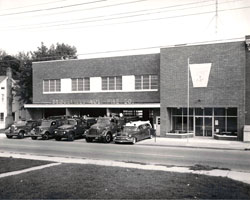 In January of 1951¬, a contract was awarded to Robert R. Layton Co. of Bridgeville for $10,477.00 to build an addition. Completed by April, the building included a modern kitchen and more space added to the Fire Hall on the second floor. The main floor accommodates more room to the engine room and a bathroom was installed along with new power and heating plants.
In December of 1952, the first two-way radio was installed in 72-6 from supported expenses by the Delaware State Civil Defense Department. The Company held two-way radio equipment in all its engines and ambulance plus base station which operates the system.
It was in February of 1958 that the Bridgeville Volunteer Fire Company Inc. joined the Delmarva Volunteer Firemen's Association.
December 12th, 1959, the Company celebrated Fifty Years of active service to the community of Bridgeville by having a banquet dinner at the Fire Hall. Roast beef was served at a cost of $2.00 per plate to the Company. A brief history of the Company was read following dinner and Certificates of Service were presented to all members. Certificates of Fifty Years Service were awarded to charter members Harry C. Layton and Grover Dickerson.
After weeks of planning and in efforts to save money, in April of 1974 the firemen themselves demolished and removed the old Post Office to make way for the future of the new building addition.
In July of 1974, "The Traffic Safety Light Bill" sponsored by Senator Thurman Adams, Jr. for the Bridgeville Fire Co. and other fire companies, was approved, and signed by Governor Sherman W. Tribbitt.
On February 3rd, 1975, with the supports of Chief Walton Smith of Bridgeville Volunteer Fire Company and Chief John Conaway of Greenwood Volunteer Fire Company, the two Companies instituted an agreement in providing Mutual Aid coverage for each other's districts. The purpose of this joining was to supplement the manpower needed in fighting fires. It is recognized to be one of the first established dual response systems in Sussex County.
Since 1947, when the Bridgeville Volunteer Fire Company purchased their 1st ambulance, they have provided ambulance services to their own district, Greenwood's district, and Farmington's district as well. As of July 1980, the Company relinquished these services and granted all rights to the Greenwood Volunteer Fire Company to cover their own district in providing ambulance services.
In November 1981, the Company purchases their 1st Oyster Shack (8x10) for means of Fund Raising.